For most of last year I was obsessed with the special places in the world that meant something to me. I was looking for places that may mean something similar to other people and how best to convey these sentiments and these places.
After a great deal of trial and a herculean amount of time creating ideas, testing designs, chopping and mixing ideas, colours, textures and patterns I finally settled on the simplest of all the ideas, the concept of showing the ground relief as contours and then utilising this in a number of products.
It was emotional, the places and the memories these places threw up made me revisit old feelings but the outcome was satisfying. I was happy as simplicity and clarity had been achieved through a very wide and long process of ruthlessly throwing away ideas that didn't shout out or engage with people.
Finding What3Words recently, the mapping app, has been a revelation. Here is a wonderful, simple idea executed perfectly and an opportunity to take my ideas a few steps in other directions. It has massive potential, it has to be used to be understood, but in essence 3 random words create a unique and permanent address for every 3 metre square on the planet. Wow.
The extraordinary surprises the app delivers, are those of 'just how much do you want to play?' 'there is a strong urge to create mental pictures from the three words' and the 'absorbing realisation there is an elegant style and a mini art work created every step you take'. I love it.
Recently photographing my Contour Range of products around the Peak District meant I had been carrying out a similar emotional map of special places, of selfies, of climbing and running spots, memories that go back 40 years and more.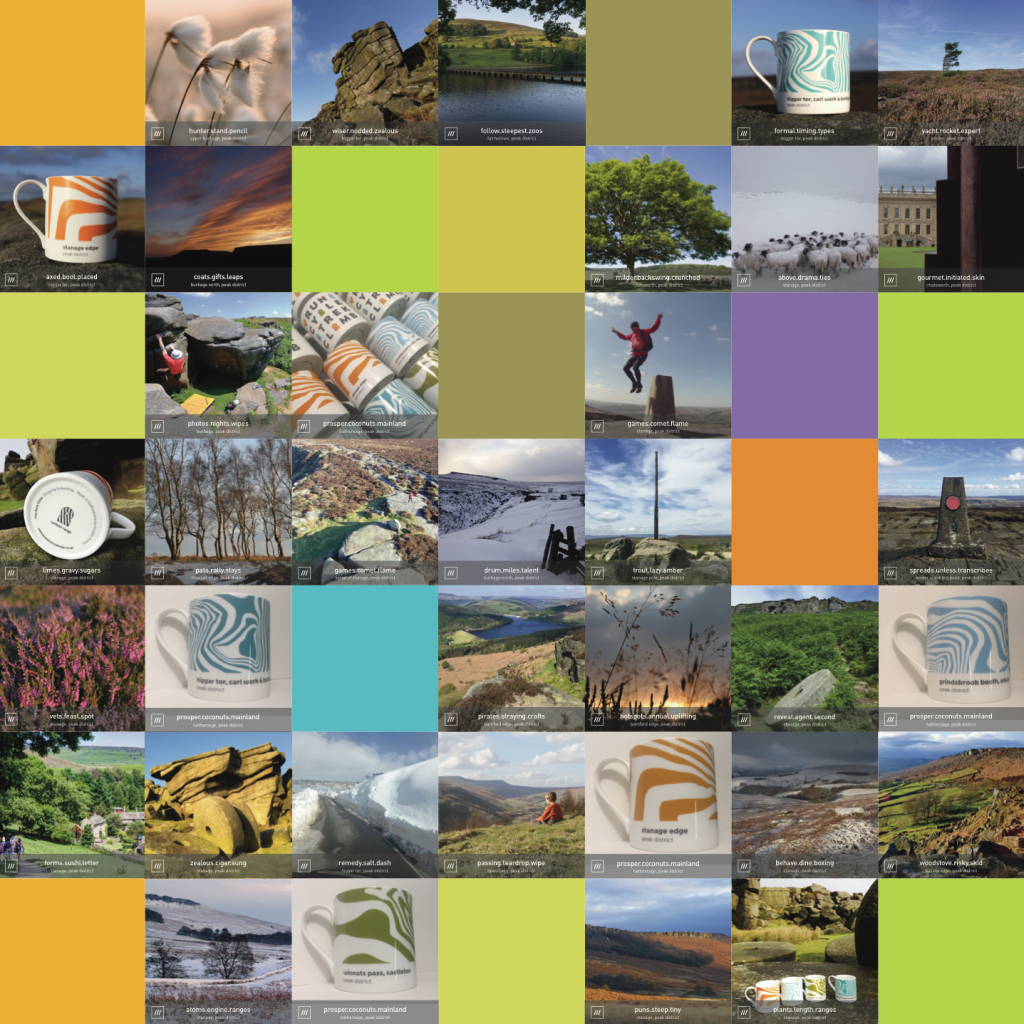 Quite often your most treasured ideas, experiences and work is waiting for you. Right under your nose, all the necessary components for something new are often hiding, ready to be put together in a new mix. And so it is with Stanage Edge, Burbage Edge and a number of other favourite haunts around the Peak District National Park.
The cartharsis of finding these places, these experiences and the whole process has been a rejuvenating release. I would need a new vocabulary to accurately describe the emotions I have been through collating images and places for this mapping work, but it could be tidily summed up as a sensation of freedom.
As you can see the components are starting to fall into place and although the piece is waiting for more material, the story of the journeys of a life are ready for a coming together now.
The full work will be available to see on 19th May 2018 at my first Peak District Design show.
Si Homfray Jan 2018.